Do you want to start a fiber laser business for metals processing but still hesitate where to buy a fiber laser cutting machine, or which supplier you should buy from?
This is a common thing most purchasers have encountered, after all paying tens of thousands of dollars for a fiber laser cutting machine is never a little thing.
Also a large group of customers are likely to turn to local suppliers who are deemed that they can offer better service than foreign suppliers. This can be a bias in that now "local" is never equals to real and best service as most customers think. Take car as an example, rich people from all over the world like to buy luxury cars which are produced from famous automobile manufacturers in Europe and America, not local in most cases. So why do you still worry about importing a fiber laser cutter from foreign manufacturers?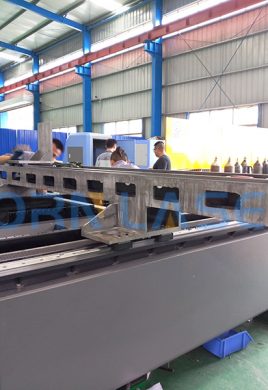 As a Chinese fiber laser cutting machine manufacturer and exporter, we deeply understand that to win foreign customer's trust and support is not an easy thing, for which we have been striving for more than a decade to improve the quality of our product quality and service. The featured advantages of our fiber laser metal cutting machine have been elaborated in the previous post in which you can learn about detailed manufacturing technology, parts selection and excellent cutting performance of MORN fiber laser cutter.
In addition to product quality refining, customer service is also a key point. If you are interested in our fiber laser machines, you can visit our factory for three days during which we bear the accommodation fee. In our factory you can personally experience how a fiber laser cutting machine for sheet metals is manufactured from raw materials and parts. Besides, you can try to cut steel plates on the spot to test the performance of our machine. As to the after-sales service, if you are not confident about our after-sales service, we are able to have you contact our former customer in your local who have bought our laser products before. Good or bad, they have the most persuasive judge.
Therefore, please divert your attention from the distance or manufacturer's nationality to the fiber laser cutting machine quality, performance and capacity of making money.