Continuous-wave Laser Cleaning Machine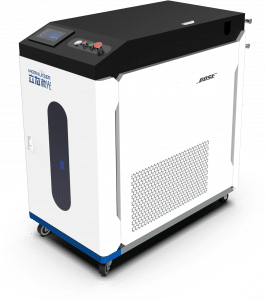 CW Fiber Laser Cleaning Machine
MORN CW fiber laser cleaning machine enables you to effortlessly get rid of organic pollutants and inorganic substances, including metal corrosion, metal particles, dust, etc from metal, plastic, ceramics, glass, stone, or concrete.
This CW fiber laser cleaner is ideal for large area cleaning such as large steel structures or pipes. 
Supporting non-contact cleaning mode and using no chemical agents, this advanced laser cleaner promises efficient and environment-friendly cleaning. 
Non-contact cleaning, no damage to parent material
Precise clean of large area, efficient and good surface cleanliness
No cleaning agents required,  safe and environmental protection
Power on and clean with super efficiency
Product catalog? Price? More videos?
Welcome to contact us online or leave a message!
| | |
| --- | --- |
| Model | MT-CL1000   MT-CL1500  MT-CL2000 |
| Power | 1000w-2000w |
| Supply voltage | Single-phase 220V ± 10%, 50 / 60Hz AC |
| Work environment humidity | ≤80% |
| Fiber length | 8-10m (can be customized) |
| Scanning width | 10-60mm |
| Laser average power | ≥200W |
| Power adjustment range (%) | 10-100(Adjustable gradient) |
| Focus spot diameter | 0.08mm |
| Center wavelength | 1080nm |
| Peak power maximum | 10kw |
| cooling | Air cooling/water cooling |
| Type of manipulator | Manual / Based on galvanometric laser scanner |
| Manipulator weight | 2.75KG |
| Size | 1180mm×730mm×1280mm |
| Machine Weight | 200KG |
Problems in traditional industrial cleaning
Mechanical friction cleaning
High cleanliness, but easy to damage the substrate Liquid solid spray cleaning
Chemical corrosion cleaning
Stress-free cleaning, but the pollution is heavy
Liquid solid spray cleaning
High flexibility, but high cost, Waste liquid treatment is more complicated
High Frequency Ultrasonic cleaning
The cleaning effect is good, but the cleaning size is limited. And the workpiece after cleaning is dry
Laser Cleaning Advantages
Laser cleaning – new technology, wider application, environmental protection
Laser cleaning can be used not only to clean organic contaminants, but also to clean inorganic materials, including metal corrosion, metal particles, dust, etc. Its applications include: rust removal, paint stripping, oil stains removal, cultural relics restoration, degumming, decoating, deplating. It has no challenge at all to deal with thick rust and paint layer, tough oil stains as well as surface roughening, weld cleaning and other processes. Additionally, without chemical consumables and solution involved, it saves the trouble to deal with waste and is more environment-friendly.
High adaptability,  long service life
When designing and configuring this tool, we take practicality and quality as priority. By adopting a customizable length of fiber optic cable with a hand-guided manipulator, the laser cleaning equipment has a high tolerance range for the smoothness of the surface of the workpiece and the processing height. It can be used not only in a stable industrial environment, but also in complex outdoor places, such as rail rust removal, fresco cleaning, bronze cleaning. Furthermore, it can work with a robotic arm to realize auto cleaning. To ensure the laser quality and in consideration of cost-effectiveness, we offer with two types of laser source for option: IPG and Raycus, with power range from 50W-1000W. Both laser source has stable light emission and service life as long as 100,000h.
Higher efficiency & precision, better cleanliness
Adopting spiral flexible scanning control technology, and fully utilizing the technical characteristics of pulsed laser short pulse width and high peak value, it can greatly improve the cleaning efficiency while ensuring the cleaning effect and precision. What's more, the tool is easy to operate, no need to disassemble, also, the cost of use is correspondingly low.
Prior to application of the coating, surface treatment is commonly required.
MORN laser cleaning device easily removes almost all kinds of impurities on metal surfaces, including oxides, greases, greases, chlorides and many other organic and inorganic residues.
This will greatly facilitate your coating process.
Soldering & welding pretreatment
Prior to soldering & welding, it is important to do pretreatment on the surface to ensure a safe weld and make the job easier.
MORN laser cleaning equipment is ideal to handle the rust as well as all kinds of impurities including dust, oxides, oil, stains, etc.