Apple revealed the iPhone 8, iPhone 8 plus and iPhone X on September 12th at 10am eastern time. In this decade, Apple launched new products every year. This is the inevitability of technology innovation and mobile phone revolution.
Time likes changes and people also flock to make differences from others. The new iPhone indeed has such-and-such upgrades in the software and hardware, but the iPhone back case seems to change little in the past generations. So some magic can be carved on the iPhone case by a fiber laser marking machine to distinguish an unique phone from many alike ones.
What is fiber laser marking machine or fiber laser engraving machine? It's an versatile laser engraving machine that can engrave diverse images and patterns on the surfaces of metals and a small fraction of non-metals. The fiber laser beam produced from laser generator works without touching the material surface, so that a clear and clean engraved pattern will appear.
To choose a suitable fiber laser cutter to engrave personalized image on the iPhone case, we recommend our MT-F30A model with 30W power to you who are searching for an affordable and also high quality iPhone laser engraving machine. MT-F30A has standard work table including 100*100mm, 150*150mm, 200*200mm and 300*300mm with matched and adjustable field lens and galvanometer scanner. We provide both imported laser generator (IPG, nLIGHT) and domestic brands (Raycus, MAX, CAS) which can be configured according to your need and budget.
Engraving images and patterns on iPhone case requires high engraving precision and processing safety. Our MT-F30A fiber laser engraver has satisfying performance with precision reaching to 0.02mm, by which complicated styles can be engraved precisely on the material surface. Generally the one-off engraving thickness won't exceed 0.01mm, a safe depth with no damage to the phone.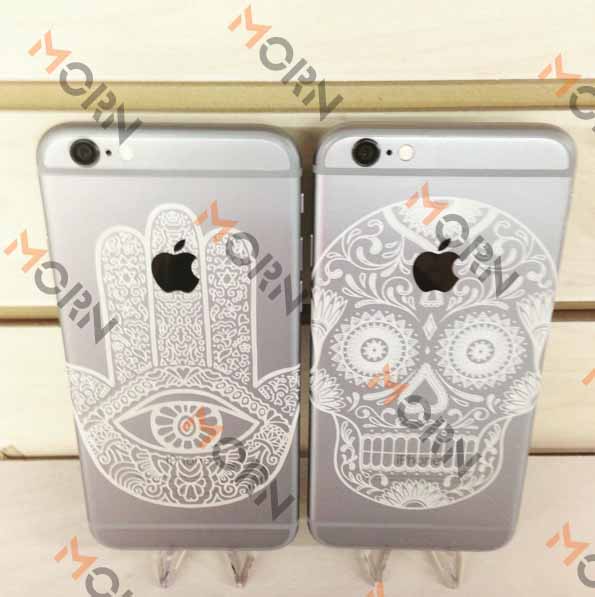 The machine is easy to operate even for beginners or novices, users just need to know the buttons function on the machine and the parameters of software will be set up and tested in our factory as per users' work need. User Manual will tell you the right operation steps and safety principles. As to the maintenance, little maintenance is needed except for quick-wear parts replacement.
So with the new iPhone generation launched, there will be a large potential market for iPhone case laser engraving. If you are planning to start a laser business or broaden the existing laser business, just try our fiber laser marking machine MT-F30A or other models. We can provide the most economical and delicate laser solution for your business.
Should I Buy an iPhone Case Laser Engraving Machine to Earn Extra Money?
was last modified:
August 9th, 2018
by
Contact us
Learn more about MORN LASER products? Get a quotation? Please send comments to us and we will reply you in 24 hours. Thank you!