What Is Fiber Laser Cutting Machine?
Laser is another major invention of mankind since the 20th century, following nuclear energy, computers, and semiconductors. From the perspective of the development of the global laser industry, developed countries have promoted the use of laser processing technology in the fields of automobiles, machinery, electronics, aviation, metallurgy, etc., and have basically completed the replacement of traditional processing technology of laser technology, entering the "Fiber laser" era.
Principle Of Fiber Laser Cutting Principle
Fiber Laser cutting uses a focused high-power, high-energy-density laser beam to irradiate the plate to be cut. The irradiated material is quickly melted, vaporized, and ablated to reach the ignition point. At the same time, with the help of the beam coaxial The air flow blows away the molten material, so as to cut the metal sheet.
Application Materials Of Fiber Laser Cutting Machine
Fiber Laser Cutting Machine is suitable for metal cutting with Stainless Steel , Mild Steel, Carbon Steel, Alloy, Spring Steel, Iron, Galvanized Iron, Galvanized, Aluminum Plate, Copper, Brass , Bronze , Gold, Silver, Titanium,etc.
Application Industries Of Fiber Laser Cutting Machine
Fiber Laser Cutting Machine is widely used in manufacturing Billboard, Advertising, Signs, Signage, Metal Letters, LED Letters, Kitchen Ware, Advertising Letters, Sheet Metal Processing, Metals Components and Parts, Ironware, Chassis, Racks & Cabinets Processing, Metal Crafts, Metal Art Ware, Elevator Panel Cutting, Hardware, Auto Parts, Glasses Frame, Electronic Parts, Nameplates, etc
Know About Fiber Laser Cutting Machine
According to international metal sheet size, our cutting size of our fiber laser cutting machine is 1.5m*3m, 2m*4m, 2m*6m,etc. We also can customized size for customer.
The laser power have 1000W, 1500W, 2000w, 3000W,  4000W,  6000W, 8000W, 12000W, 15000W, 20000W, 25000W.
What is the relationship between laser power and material thickness? As the name implies, the greater the laser power, the thicker the cutting thickness. Please take a look at the following analysis, so that everyone can understand better.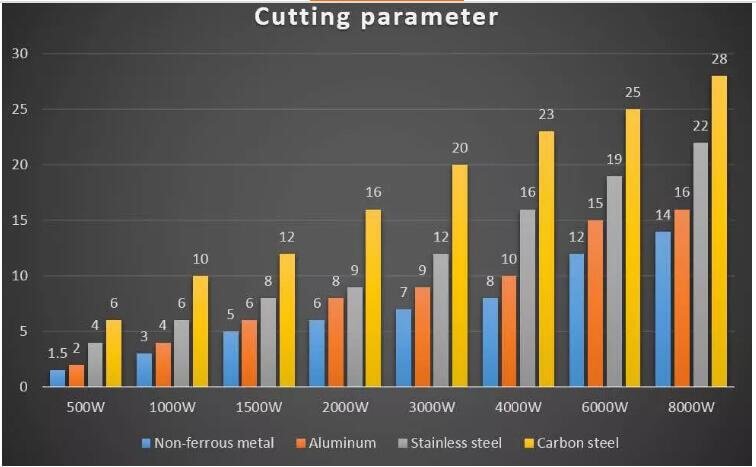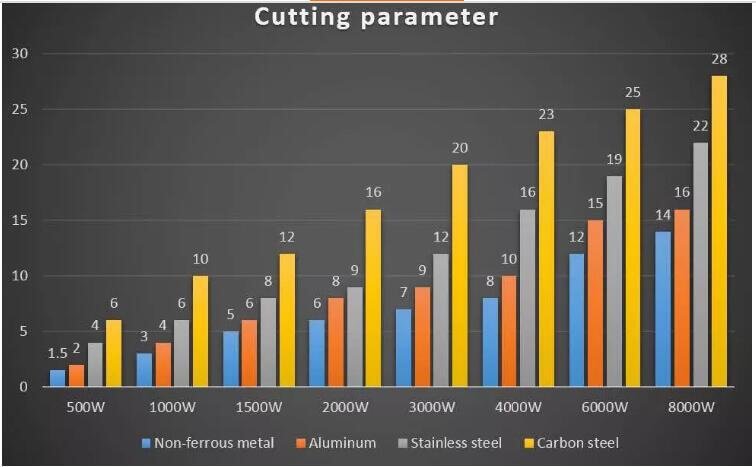 The main parts of the fiber laser cutting machine: laser head, laser source, water chiller, software, motor, driver, lathe bed,etc.
Machine model: MT-L1530F standard fiber laser cutting machine, MT-L1530FR Sheet and Tube Fiber Laser Cutting Machine, MT-L1530FE fiber laser cutting machine with exchange table. MT-L1530FH Full Cover Fiber Laser Cutting Machine. MT-6000 professional tube fiber laser cutting machine.
Industry Development Trend Of Fiber Laser Cutting Machine
In the industrial laser equipment market, laser cutting is the most widely used, accounting for 39%. Laser marking and welding rank second and third, accounting for 19% and 12% respectively.
Lasers are gradually developing towards high power. In terms of sales of high-power laser cutting equipment, MORN exported about 500 high-power fiber laser cutting machines in 2019. A year-on-year increase of 16.7%. The sales volume of high-power fiber laser cutting machine equipment is expected to increase to 800 units in 2020. Now we have developed ultra-high power fiber laser cutting machine of 20000W, 25000W or even 30000W.
While these high-power laser machines improve performance and output, they also provide a larger cutting range, faster cutting speeds and improved edge quality of parts.
MORN Laser has been deeply involved in the laser field for many years, aiming to promote the milestone development of the laser industry and to drive the peak of global smart light sources. It has extensive influence in the industry and is known as the authoritative ruler in the laser industry. Nearly a hundred sales branches have been established nationwide, and overseas sales platforms have been established in the United States, Russia, Germany, Poland, South Africa and other countries. Products have been sold to more than 150 countries and regions, becoming the leader in the laser industry.