Map grid is unique to the city
Simply taking the wall as background, color paper as the city grid
Backed by precise laser cutting map grid process
You are easily taking the urban streetscapes into works of art
Showcase the unique "art map" charm.
Copenhagen, a city of stunning bold architecture alongside historical monuments, towers and palace, should have a place in everyone's heart. The paper cut map of the beautiful city of Copenhagen designed by Julie Marabelle conjures up so many wonderful memories: climbing the ancient cast-iron staircase in the botanical garden, riding atop the Ferris Wheel in Tivoli Gardens, eating the delicious Danish sandwich, or cycling around to the Little Mermaid before taking a swim at Islands Brygge Harbour Bath.
Laser-cut 3D Map Makes You Can'T Help Touching the Beauty of The City
Minimalist city street maps made from layers of laser-cut wood by Polish architect Hubert Roguski
Streets and rivers in a crisscross pattern with a stunning three-dimensional design
Protected with a frame, the whole world is in your home.
Laser-cut 3D map makes you can't help touching the beauty of the city.
Each piece is laser-cut "with a one hundredth of a millimeter precision" from 3mm thick sheets of high-quality plywood, telling "a story about a city you love. The map is a great blend of nature and city. Showcase your pride for your city.
Laser-cut Lake Map Depicts Intricate Beautiful Bathymetry
Using the city streets as inspiration, MoniqueHarby turned a simple map into a laser cut work of art. Laser-cut Lake Map features intricate details including shorelines, two colors and up to eight depth dimensions. The laser cut maps also depict surrounding towns and major roads giving each of the available 4,000 lakes a sense of place and belonging. Who would've thought bathymetry (the study of the depths and shapes of underwater terrain) could be so beautiful?
Laser-cut Metal Map Rejuvenate the New Look of The Map
Metals can also become brilliant under the processing of laser
Cut into the shape of continents with metal sheets, and then overlap each other to create a full artistic atmosphere, gorgeous and amazing
Whether you are a map lover
Still a senior travel enthusiast
Laser cutting machine walks on the map
Embraces the artistic style of different materials
Will give you a new look for the map
Unlock more city views
Laser-cut metal map rejuvenate the new look of the map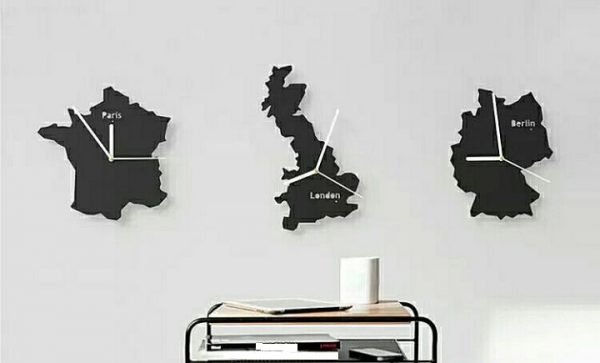 Laser-cut Clock map, you may wandering is it a clock-like map, or a map-like clock?
Get a Laser-Cut Map of Your City
In order to make your own laser cut wall map you will need:
1.        CO2 laser cutting machine
Support dynamic display of machining trajectory and coordinates, real-time display and tracking of machining progress;
Support power-off continuous engraving and cutting, working time preview function, and work preview can be accurate to the millisecond level;
Support spot size track compensation, design path optimization scheme in software.
Integrated auxiliary power supply on the fuselage, unified control
Support Ethernet (10/100M) and USB2.0 transmission, USB maximum transmission rate is 12M, the longest distance is 5m;
High precision fiber laser cutting machine
2.  High precision fiber laser cutting machine
 High precision and stability, effectively eliminating the shock generated during high-speed cutting;
Double screw and double motor drive system with high speed arc cutting function;
Automatic lubrication system, maintenance-free transmission parts, cutting corrosive materials;
Power, frequency and speed follow function to reduce corner cutting burrs