Fitness equipment manufacturing industries have been booming with the fiber laser metal cutting technology being introduced. As one of the top 15 laser manufacturers in China, MORN LASER has taken up a great place in global laser market with 18 years accumulation of industrial technology and manufacturing experience.
Aiming to provide professional and cost-effective laser engraving and cutting solutions to users, we have helped many enterprises enjoy the convenience and efficiency of laser metal processing. Among these customers, some have got great benefits from MORN LASER's technology and maintenance pattern.
Take our cooperation with German customer as an example. We recommended our MT-L1530 fiber laser cutting system for metal sheets and pipes to his fitness equipment manufacturing business. After visiting our factory and testing the machine performance on site, he decided to order a MT-L1530 in March, 2017. His company is specialized in the whole business of fitness equipment designing, manufacturing and marketing. Their products have covered almost all European countries and many overseas markets. Their first laser equipment from MORN LASER was a mixing laser cutter that can process both metal laser cutting and nonmetal laser cutting in 2014. And then they got the upgraded version in their rising period after two years. It is no exaggeration to say that we have witnessed the business booming of them, whose annual value of production have tripled in the past three years.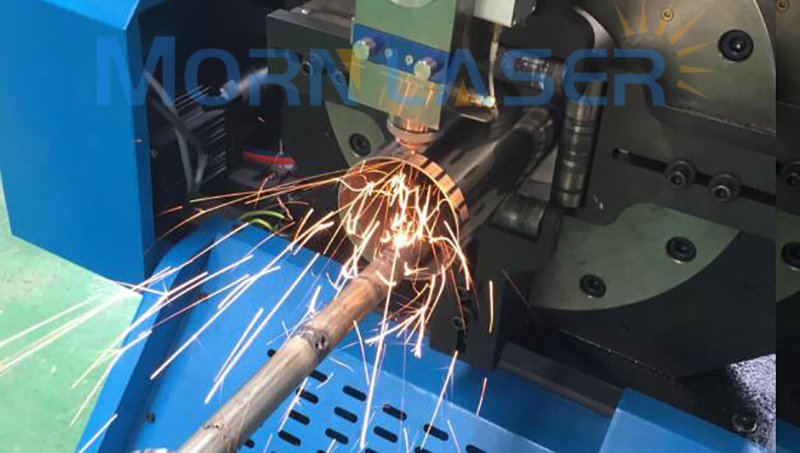 For any metal processing business, efficiency and proficiency are the secret of market competitiveness, especially in the early investment phase of the enterprise. Taking this idea into full consideration, we help calculate the budget and output of laser investment for each customer who is looking for an economical but profitable laser solution for their business. To find more about how we can offer cost-effective laser solution for your budget-minded procurement, you can check this post to get details.
After years of application and market test, this German customer is becoming increasingly confident in laser cutting and welding solutions offered by MORN LASER. Up to now, their laser processing equipment systems include our fiber laser metal cutter, fiber laser marking machine and laser welding machine, which have earned a good profit for his company. Plus, fitness equipment is now more and more welcomed by worldwide consumers who prefer a healthy bodybuilding habit and an active lifestyle coming from sports. This also promotes his business development.
"The laser metal cutting machine we brought from you have worked soundly with regular upgrade" said Mark, technical manager of this fitness equipment company, "Its easy operation and stable performance tremendously accelerated the efficiency of our production lines, and we also save much money from the maintenance work with your considerate technical support".
He also offered some suggestions for you to choose good metal laser cutting machines. The most important parts you should carefully select are mechanical drive system and laser devices. Hence you can feel reassured that our fiber laser cutters adopt Japan-imported drive system and servo motors. Also the US brand and Chinese top brand laser sources are optional for different budgets and work requirements. These parts will provide powerful support for laser processing of high precision and stability.
With the added manufacturing efficiency, they must expand their business in broader market and provide modern fitness equipment to global consumers. We are glad to offer a real laser solution that deeply fitted their business.
For detailed laser cutting solutions and services, contact us by email [email protected] or write your questions below to get quick answers.