In August 2017, MORN GROUP announced the most updated advantages of fiber laser cutting machine for metals after 2 years of concentrated effort. From raw materials, user-friendly design, manufacturing technology to after-sales service, 5 main features were highlighted here to help you better understand and choose the fiber laser cutting machine.
1. Machine Appearance:
Considering from application, delivery and storage convenience, and aesthetics, MORN professional mechanical designers combine with the machine size, component features and color matching to design fiber laser metal cutting machine appearance. Fitting in with aestheticism, function, and ergonomics, the design is good for users' safely operation and maintenance.
2. Lathe Bed:
1) It will take 20-30 days to produce a lathe bed (material selection, welding, high-temperature annealing to remove stress, precision testing, etc.). These procedures can prevent weld cracks and lathe bed stress deformation, so as to increase the load capacity, cutting precision and stability.
2) Steel tubes and plates are welded together to ensure the more stable and precise performance of the lathe bed than only steel tubes welding or plates welding. Thus it can serve for more than 20 years without deformation.
3) High-speed lathe bed of MT-L1530F model weighs 2.1 tons which can keep the stability and precision of cutting work.
These three advantages are all able to improve the precision and durability of the machine and guarantee users' long-term and stable application.
3. Gantry:
MT-L1530F model and metal tubes/plates fiber laser cutter can both adopt aluminum gantries (regardless of power) that have better stability, faster cutting speed and acceleration compared to the traditional iron gantries. It works more perfect on processing small graphs, greatly improving customers' work efficiency.
(Note: Acceleration is determined by motor and gantry – the greater the motor power is, the greater the reduction ratio will be; the lighter the gantry is, the greater the acceleration will be.)
4. Core Parts:
1) Laser Generator
It can be recommended as per customers' needs. MORN high quality fiber laser cutting machine adopts big laser brands like IPG, Raycus, nLIGHT, etc to meet diverse needs, durable and stable.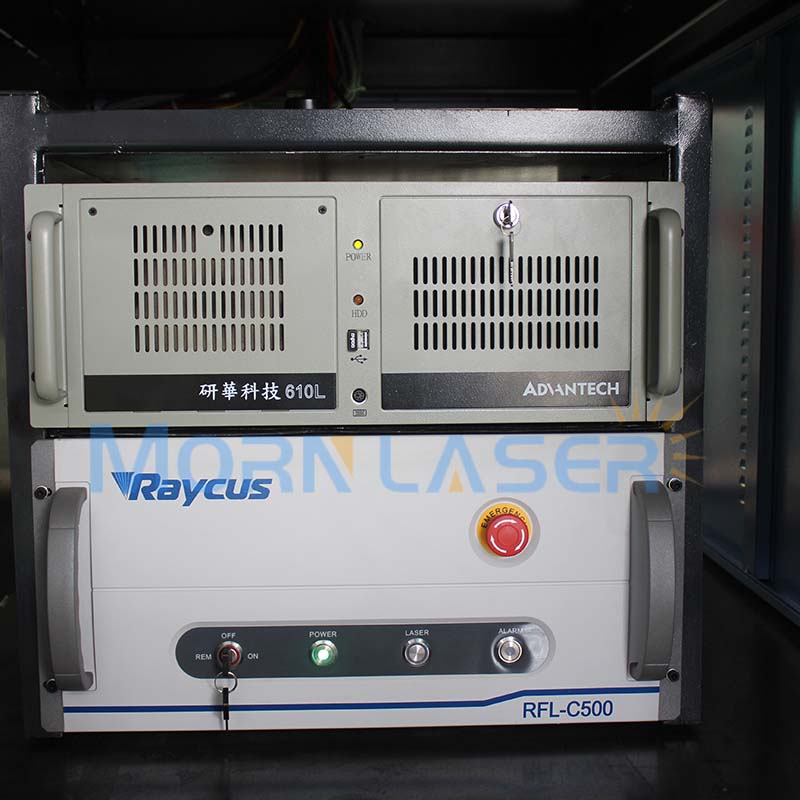 2) Cutting Head
It can be matched also according to customers' needs. For example, when nLIGHT laser generator works with Raytools cutting head, it can process high-reflective materials uninterruptedly with better cutting results. While American Lasermech laser head can not only work with higher precision and longer service life, but can also enjoy after-sales service locally, economical and convenient.
3) Driver and Motor
a. Y axis adopts dual-drive servo system, and its accuracy is twice as high as the single drive system, up to 0.02mm/min;
b. Japan Fuji motor is adopted, which can provide greater acceleration for small graphs cutting under the same load. With automatic adjustment mode, the cutting effect can be adjusted more conveniently;
c. Japan Fuji motor cooperates with Japan Shimporeducer to form a full set of Japanese transmission mechanism to ensure cutting stability and accuracy;
d. Worktable: Machine feeding system can save manpower to improve customers'work efficiency; Parallel switchboard, chain transmission and stable performance all lead to its bigger load capacity (1.5-2 tons) compared to the climb-type or lift-type switchboard. The switching time is 8-10s, reducing feeding time and increasing feeding efficiency;
4) Machine Materials Selection
MORN fiber laser cutting machines are all made of reliable materials to ensure high quality and durability. Currently, we use American Honeywell electrical parts or France Schneider Electric SA's electrical parts, because of their stable performance and low failure rate, to ensure customers' long-term use and safety;
5) Rack
Highly precise and durable Taiwan YYC twill rack is adopted.
5. After-sales Service:
1) 3-year warranty: MORN upholds the principle of "customer first", and has been refining on product quality and safety. Based on the high quality of products, we provide 3-year warranty service to reassure every customer.
2) Multiple support service and lifelong technical support are available by emails, phone calls, Skype, Teamviewer, Whatsapp, Facebook, Viber and other online platforms to provide customers with professional laser cutting solutions. And machine operation video and user manual will be attached with the machine to facilitate customers'safe operation and laser business development. Besides, MORN after-sales team can be reached during 7*24 hours service to offer instant solutions for customers.
3) Professional overseas service and door to door training are also offered by MORN after-sales team with 12 years experience. Overseas service, technical training, machine maintenance, test and technology upgrade are all easily available.