Rings are the symbol of beautiful emotions and memories, and have so many designs and types that people not only wear them to titivate themselves, but also to remember some wonderful moments. Apart from the materials like gold, silver, jewelries, and nonferrous metals that bring value and meaning to rings, fiber laser marking also endowed rings with rich connotation in the form of characters. Fiber laser marking machine is a tool that can be used to mark on the surface or inner side of rings.
Characters or patterns marked with fiber laser metal marking machine are specially welcomed among young people. For instance, when a man plans to make a proposal to his loved girl, he must spend special time selecting a delicate ring which can show his love and honesty to the girl. But rings are not always unique as one model of rings can be divided into different sizes, which means other customers may also buy the same type of rings with you. During this case, if this man chooses any ring he wanted, he can customize special characters with a fiber laser marking machine on the inner surface, such as the name of his lover, or the date when they firstly met, or any meaningful numbers and characters they cherish. Then this ring, no matter what material it is and how much it is, is invaluable and affectionate enough to move the girl. And this is also the evidence of love.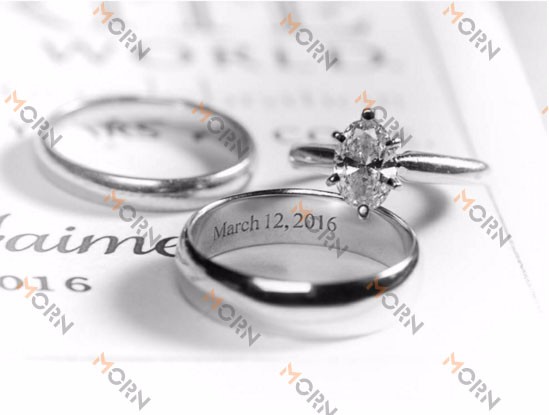 In addition, customizing personalized characters on rings usually cost little money or even free in most ring shops where as long as you buy their rings, they can provide such marking service free for you. So young people enjoy this marking rings a lot, for they can send a unique customized ring to their lovers on the one hand, and on the other hand this additional marking service is economical. And the ring shop owners, of course, can also benefit form an affordable fiber laser making machine and will sell more rings with this marketing method.
There are many types of fiber laser marking machines for sale in global market, and professional laser solutions can be provided on our website. For detailed information about fiber laser machines, please directly contact us anytime.