What are the construction and high-rise buildings in your impression? Is it still monotonous reinforced concrete, giving a feeling of cold and hard, heavy and turbid? In this face-judging era, the buildings are all about "winning by appearance"!
So how can we break the rules and give people a refreshing feeling?
In terms of materials, architects cleverly use metal plates that are light, strong and expressive. In processing, standing out with its hollowing, punching, scribing and other functions, fiber laser cutting machine reshapes the metal space of the building.
Let's go through some creative masterpieces of architects with the help of laser cutting machine.
New York nARCHITECTS Design Company completed new rectification for Beirut's ABC Store. They combined façade with the internal LED lighting to make the store present a very eye-catching visual effect. "Its silvery façade is an LED back-lit laser-cut aluminum screen, with apertures of varying size. In addition to creating a luminous icon at night, the new façade reduces solar heat gain from western exposure. Waste from nearly 3,000 aluminum cut-outs have been re-used as façade elements throughout the remaining three volumes." (Source: archnet.org).
The hidden house designed by architects Teatum+Teatum is extremely simple and modern. Named Hidden House, the residence is squeezed between two existing buildings and has a glittering facade of black render and metal filings. The highlights are concentrated on the door and the window. Perforated steel doors fold open like the wings of a butterfly at the backstreet entrance to this London house, and the effect of the laser-cut pattern through the light and shadow not only presents the beauty on outer façade, but also has an excellent decorative effect in the interior.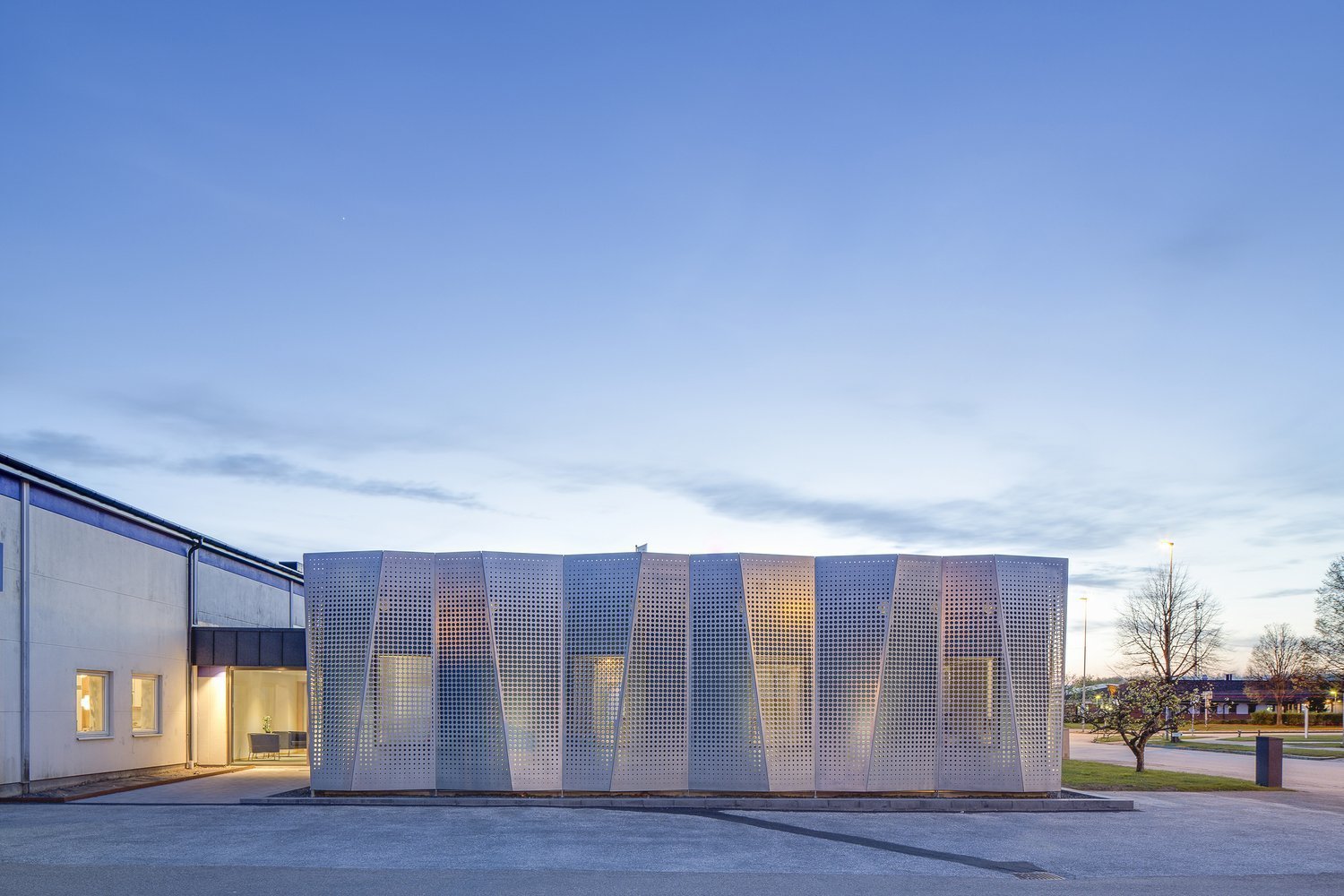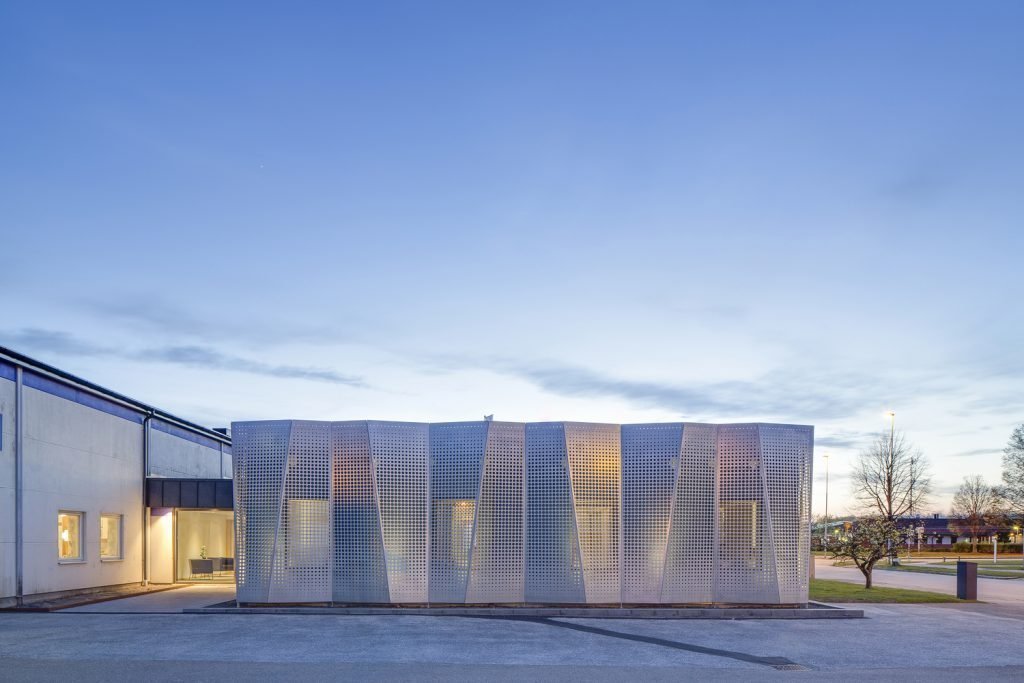 Byggom AB Office wrapped with metal sheets perforated by a laser-cut grid forming a gradient on the façade. With the grid gradient and the reflex color behind, the varying depth and the shadow play it produces, the building appears to change depending on the time of day and the weather. The titanium-powder-coated sheets slope along the central line, creating a screen that shifts three-dimensionally along the length of the façade as well as dissolves the corners of the structure.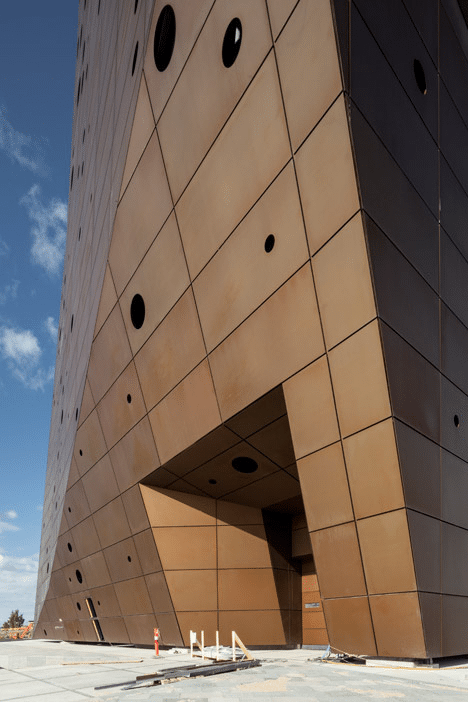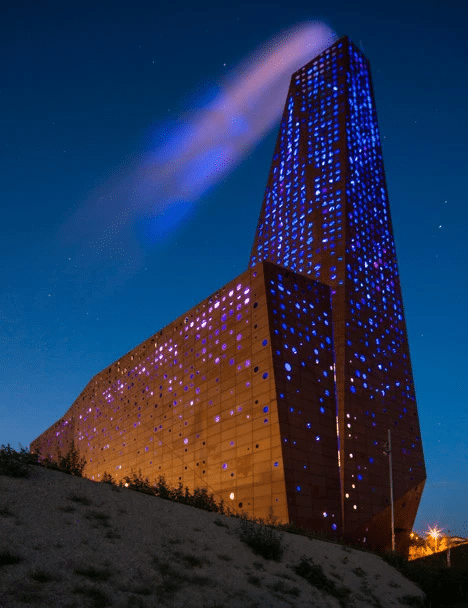 Incineration Line 6, a waste-to-energy incinerator/power plant in Roskilde, Denmark completed by Dutch architect Erick van Egeraat, is a thing to be behold: the building was shaped to reflect the angular factory roofs of the immediate surroundings, engaged in a dialogue with its historic and industrial surroundings, "spotted with laser-cut circles, its concealed, individually-controlled lights illuminate the umber-colored aluminum tower from the inside-out at night—a symbol for the combustion taking place within."
"It is, without a doubt, a beautiful piece of architecture, one destined to not only power and heat the surrounding region, potentially a future landmark in the low-lying Danish landscape. (Emerson Rosenthal: A Beautiful Waste-To-Energy Plant Glows In Denmark, 2014)"
A building with laser-cut elements presents stunning effects. So, what are the processing advantages of the laser cutting machine?
Advantages of the Fiber laser Cutting Machine in Processing Metal Façade of the Building
As we all know, high-efficiency, high-quality, high-level automated metal laser cutting machine can be used for professional cutting of various carbon steel, stainless steel, silicon steel, galvanized sheet, aluminum alloy, copper and other metal materials. Thanks to its wide application, high processing speed, narrow slit, small heat affected zone and good processing flexibility, it has been introduced by many metal processing users. With the metal laser cutting machine, you can delineate all kinds of patterns on the metal material as you like, and create a unique space!
What's more, processing the aluminum façade with a metal laser cutting machine not only cuts a variety of complicated geometries quickly, but also maximizes the use of materials.
Fiber laser cutting machines turns the bold imagination of the architects into reality.
Recommended Fiber Laser Cutting Machine
Full protection high speed fiber laser cutting machine
• The whole rigid welding frame can realize high-speed and stable cutting;
• High-speed perforation and automatic edge finding;
• Fully automatic exchange platform can shorten the loading and unloading operation time;
• Full protective cover for maximum operator safety;
• Widely used in sheet metal processing, hardware cabinets, construction metal processing and other industries
In conclusion, fiber laser cutting machine is a very convenient tool for architects in shaping the metal space of the building.  Since metallic elements are increasingly appearing in modern buildings,  fiber laser cutting machine should be an essential tool for architects. Check more details about such machines on https://www.morntech.com/fiber-cutting/.