Have you ever used a laser engraved wallet with delicate design and personalized idea? Or if you are a laser engraving business owner, have you introduced leather wallet laser engraving to your business range? This laser business is a potential field that can be easily invested with a few thousand of dollars.
People are now not satisfied with using a wallet only to keep money and bank cards, but to express personality and aesthetics at the same time. Leather wallet is a kind of so classic work that has been loved for hundreds and even thousands of years since ancient times. And until nowadays, leather-made wallets are widely welcomed and are also reformed in style and production techniques, among which CO2 laser engraving machines have been adopted to engrave beautiful images and personalized patterns on the surfaces of leather.
Then how to use a CO2 laser engraver to engrave images and patterns on a leather wallet? Let's see the following descriptions:
1. Leather and style selection
Firstly select a piece of proper leather whose color and texture appeal to you. Its size, of course, should match the processing table size of the CO2 laser engraving machine. And the image size you choose should conform with the size of the wallet to achieve best results. Usually customers prefer to design a style by themselves, such as their names, wedding date or some beautiful patterns, based on which you should learn to use the laser machine software to draw their designs, then print them on the wallet. This requires you proficiently operate the software and the control system of laser engraver.
2. Application of graphic software
Once the image has been decided, input it to the graphic software via the computer that is connected with the CO2 laser machine. Or you can design a special image directly with the software which is simple to learn and operate, even though you are a beginner. At MORN, we provide free training for each customer to learn how to use the software and how to operate whole laser processing.
3. Start engraving
Make sure the power supply and the CO2 leather engraving machine are both in normal condition, then you can start the engraving course. Turn on the start work button, and just let the machine do all the rest things.
4. Clean and fast engraving
As there is an exhaust fan to extract the dust outside, the whole engraving process will be clean and tidy. The smoke produced from laser engraving work will be extracted out by exhaust fan, which won't influence your workshop's environment. Also it won't take you too much time to wait for the engraving result, and just a few minutes will be needed to finish the work.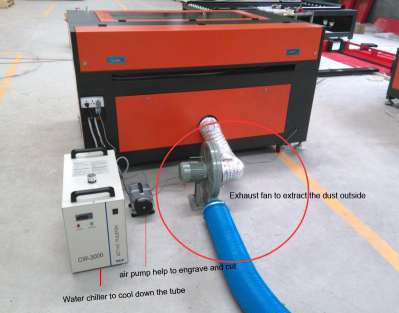 Laser engraved leather wallet is one type of popular laser engraving crafts. If you want to start a laser engraving business, many materials and product types can be engraved or created by the laser engraving and cutting machine. There is a huge market for early investors. For further information, we will be always here to offer professional solutions.