Affordable, Reliable and High performance
The best metal laser cutter for you.
Affordable&Reliable&High Performance Metal Laser Cutting Machines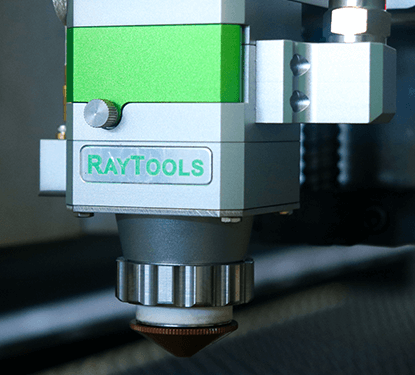 Your application is the key factor determining which metal laser cutter is the right one for you. We will be glad to find the best, most cost-effective solution for you—we don't just focus on providing the right laser metal cutting machine, we also strive to make your investment count by offering the most reliable one. For small metal fabrication business with limited budget, we have affordable metal laser cutting machines—but not at the expense of performance and quality, for you. With selected quality parts, ingenious design, precision manufacturing, MT-L Fiber will always bring you reliable cutting experience.
Why Choose Fiber Lasers For Metal Cutting?
FIBER or GAS (commonly CO2) laser represent the two most common processes for processing metal. However, fiber laser beam offers a metal friendly wavelength which is more efficiently absorbed by metals. This allows fiber laser to cut metal at 2-3x faster than CO2 lasers.
Besides, fiber laser operating costs are only half of what a CO2 system can offer due to the lower electrical consumption and high electrical efficiency.
Also, fiber offers lower down time, less ongoing maintenance all translates to increased productivity. For this reason fiber has been quickly replacing the traditional CO2 laser in most metal cutting applications.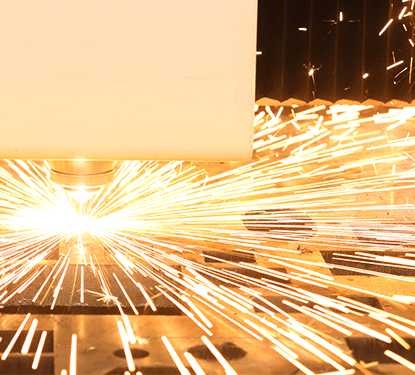 Today, fiber laser cutting machines offer the ability to economically laser cut metal such as stainless steel, carbon steel, galvanized, and even aluminum materials. As a result fabricators have a great opportunity to cost effectively and efficiently laser cut highly intricate metal parts, prototypes, and customized pieces, application evaluation.
Metal Laser Cutting Machines for Sale
MT-L Fiber
MORN LASER metal laser cutters come in 7 models, all are designed with fiber lasers, for cutting sheets and tubes, from prototyping through production, to meet the needs of different metal fabricators.
Our metal laser cutter for sale contains high power fiber lasers up to 15,000kW, which can process 55mmSS, 50mm CS, etc. Standard cutting formats are available with sizes: 3000mm*1500mm,4000mm*2000mm, 6000mm*2000mm. Custom lasers and formats are also available. Talk to online engineers for details.
MT-L Fiber are perfect for demanding applications: impossible geometries, extremely narrow nesting,well-defined cutting edges,etc.
Single plate metal laser cutter for versatile and productive 2D flatebed laser cutting, with undisputed superior quality results.
Equipped with intelligent CNC chuck, precise control of speed and clamping force.
Industry new patent, representing the new height of pipe cutting technology in the industry.
One machine, two purposes, save space, save cost
Preferred equipment for comprehensive processing metal manufacturers.
Cutting, loading and unloading can be carried out simultaneously, greatly reduce processing time, improve metal processing efficiency.
Environment protection, safety and noise-proof.
Favored by modern metal fabricators.
An economic option to the advertising market for its efficiency and stability at an affordable cost.
The Smallest and cheapest laser cutter for metal, best choice for diy metal design lovers. 
Laser Power and Cutting Thickness
Laser Metal Cutting Applications Cases
Fiber laser cutting machine is for metal precise cutting powered by fiber laser technology.
This video demonstrates our newly designed metal sheet laser cutting machine.
This video demonstrates our newly designed metal sheet laser cutting machine.
This video displays the new design of our sheet and tube fiber laser cutting machine.
Servo motor and driver: Some supplier use mix servo motor which will make the accuracy worse.
trong Letha bed: MORN takes 20-30 days to produce a lathe bed (material selection, welding, high-temperature annealing to remove stress, precision testing, etc.).
Fiber laser technology has become a new star in laser industry and an emerging leader in sheet metal cutting field.
Fiber laser cutting machine is for metal precise cutting powered by fiber laser technology.
Compared to traditional CO2 laser machines or YAG lasers, the fiber laser has higher effiency and are more versatile in metals processing,
Laser Metal Cutting Samples
Carbon Steel laser cutting in different thickness
Stainless Steel laser cutting in different thickness
Brass laser cutting in different thickness
Aluminum laser cutting in different thickness
Galvanized Plate laser cutting in different thickness
Custom Business LOGO Signs, Business Signs, Outdoor Metal Signs,Commercial Sign, Custom Graphic sign, Customized Laser Cut Address Signs
Custom Logo Stainless Steel Laser Cut Signboard , Custom Laser Cut Logo Brushed Metal
Buy the Right Metal Laser Cutting Machine
we understand that every job is unique in its own way. We also know that before investing in a solution, it only makes sense to ensure that a laser system can meet your application and organizational needs. When purchasing a MORN LASER metal cutting machine, you are tapping into the laser cutting know-how of dozens of MORN engineers. Discuss your application with our laser cutting specialists and get custom samples of your parts. Discover the right laser cutting solution for your shop.
What should i know to buy a metal laser cutter?
Factors That Affect the Metal Laser Cutting Quality
Compared to other guardrails, metal guardrail is more durable and reliable especially in outdoors. Metal guardrail laser cutting machine facilitates guardrail fabricators taking the lead in the competitive guardrail fabrication markets with unparalleled precision, speed and unique flexibility in pattern making. 
What is the best laser cutter for metal?
How to build a laser metal cutter?
How much does a metal laser cutter cost?
How small can a laser cutter cut thin metal sheets?
How strong is a sheet metal laser cutter?
What to use to clean metal grate for laser cutter?
What kind of laser cutter do i need to cut metal?
How thick of metal would a 1000w laser cutter cut?
How does a metal laser cutter work?
What happens if a laser cutter is used on a reflective metal?