1. Controller http://en.rd-acs.com/
Laser cutting & engraving RD controller RDC6442 (include the mother board and main board) is one of the main core parts of the Morn laser machine. This parts controls how does the laser machine work.
Technical Parameters:
1.Digital laser control signals:
Technical Parameters:
1.Digital laser control signals:
(1) TTL level output, 50 mA,drive capability(can set enable signal polarity in software)
(2) PWM frequency 2K-50K for adjustable
(3) PWM duty ratio is 1% ~ 99%, adjustable
(4) PWM value is up to 5.0 V
2.Motor control signal:common-anode output, drive capability 20 mA
Motor control pulse frequency: Max.500KHZ
3.USB: Max. transmission rate 12M bps; The longest distance is 5 meters.
4.Network:Max. transmission rate is100M; Max. transmission distance is 200M.
5.Interpolation:Linear/circular arc/B spline, accuracy + / - 0.5 pulse
6.Output: 4-channel, photoelectric isolated OC gate output, the max. drive capability 500mA drive capability
(with follow-current protection)
7.Input:4-channel, photoelectric isolated input, compatible with 5V/ 12V / 24V logic level
2. Laser tube ( www.bjefr.com )
Laser tube will generate the laser light to engrave and cut material according to your design and the power is optional for different material thickness (The power is bigger is better for thick material cut, however worse for engrave and 80w is the best for both engrave and cut).
ZS Series Feature (80w or bigger power we all adopt ZS series as standard)
1. Reliability: discharge raw glass tube is imported from Germany, the complete glass tube quality is under controlled.
2. Power: mirror & Windows from II-VI, compared to common laser tube with same length, power is 40% higher. Max power can be 190W.
3. Long Lifespan: catalyst coated discharge tube with processed electrode, the discharging is more stable, and working life is up to 10000 hours.
4. Beam: stable cavity structure brings more reliable beam and better quality, beam mode is up to TEM00.
3. Lens ( www.wavelength-tech.com )
The machine has 3 sets reflect lens and 1 focus lens. Through the lens, the laser light will focus on the laser head and effect on the material.
Specifications
Diameter Tolerance +0/-0.13mm
Thickness Tolerance ±0.25mm
FL Tolerance <±2%
Centration <3 arc minutes
Clear Aperture >90%
Surface Figure <λ/2 per 1"Dia@632.8nm
Surface Quality 40-20 scratch and dig
AR/AR coating R<0.5% per surface @ 10.6um or 9.4um
4. Driver and motor ( www.jmc-motor.com )
Drive system is the source of the motion of the machine. It generator power and then ensure the machine could runs well.
Technical parameter as below
The new 32-bit DSP technology
Optically isolated differential inputs
Ultra-low noise and vibration
The range is 2-128 and 2.5-50 subdivision
Built 500 high octave microstep ( selected microstep value)
Stationary current is automatically halved when stand still
Pulse frequency response up to 250KHz
Overvoltage, undervoltage, short circuit protection
Alarm output function I / O ports
Offline protection input ENA
Hiwin guide rails ( www.hiwin.com.tw )
Hiwin guide rail helps the laser head move in the X axis and Y axis.
EG series linear guideway is possessed with high load capacity and high rigidity because of the four rows design. It also features the same load in four directions and self-aligning capability to absorb installation-error which can achieve high accuracy.
Besides, the lower assembly height and the shorter length make the EG series more suitable for the high-speed automatic machines and the applications where space limit is considered.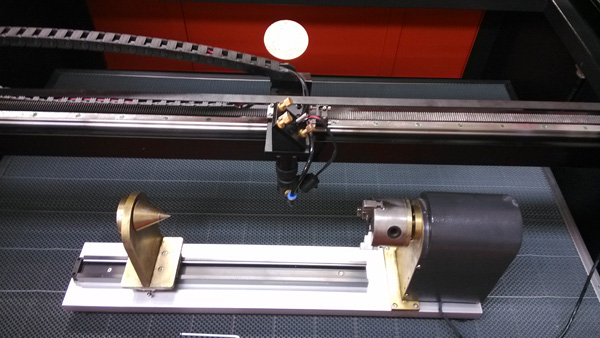 Rotary
This is optional parts for cylinder material engrave and cut. Such as cups, bottles, etc. You could choose as your requirements.