Morn metal fiber laser engraving machine advantages
Time:Feb 06, 2017Author:Cherry
Our Morn Technology glad to share one metal engraving machine with you. Which is widely used in many kinds of metals and partial nonmetals engraving. With high quality, nice engraving performance and high engraving speed.
Morn metal laser marking machine advantages:
1. Compact: The high-tech product, which is combined of laser device, computer, auto controller and precision machinery.
2. High Precision: Re-position precision is 0.002mm
3. High Speed: Imported scanning system makes the scanning speed is up to 7m/s
4. Easily Operating:Afford the specific marking software based on Windows, which is real-time adjust the laser power and pulse frequency. You can input and output by computer according to edit in the both of the specific marking software and the graphic software such as AutoCAD, CorelDRAW and Photoshop.
5. Long life time: This machine have long life time that can over 100,000 hours
6. Energy Saving: The efficiency of optic-electrical converting is up to 30%
7. Low Running Cost: No wearing part. Free maintaining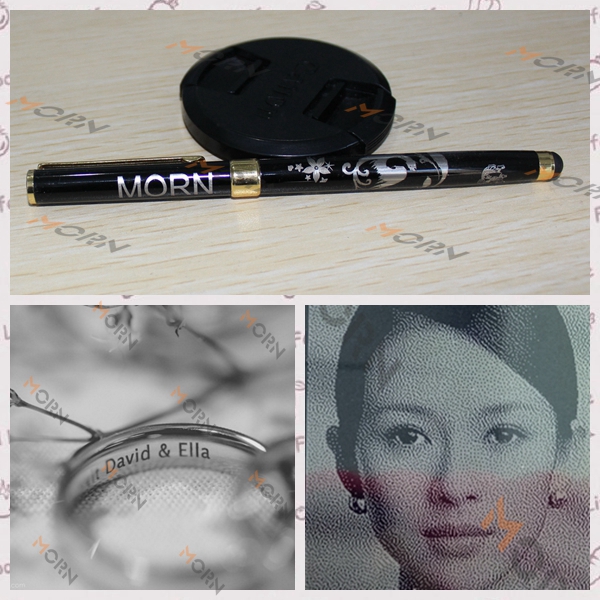 Morn fiber laser engraving machine applicable materials:
Fiber laser marking machine is professional for both metal and non metal material marking. Such as the stainless steel, mild steel, Aluminum, brass, copper, chrome, Anodized Aluminum, Silicon Wafer etc as well as lots of non metal materials, like ceramic, rubber, plastic, leather, cardboard,etc.
Morn fiber laser engraving machine applicable industries:
This series machine is widely used in metal field and non metal field, such as automatic parts industry, medical Equipment, electronic components, IT industry, hardware industry, precision apparatuses, jewelry, Crafts, high-low-voltage appliances, packaging industry, etc.
Do you wanna to know more details for our hot sale metal engraving machine? If so, please do not hesitate to contact us. Morn welcome your inquiry.
---