How about the fiber laser cutting machine?
Time:Oct 20, 2016Author:April
Fiber cutting machine is widely used in sheet metal cutting, electrical switch manufacturing, aerospace, food machinery, textile machinery, engineering machinery, locomotive manufacturing, agriculture and forestry machinery, elevator manufacture, special vehicles, household appliances, tools, processing, IT manufacturing, oil machinery, food machinery, diamond tools, welding, welding gear, metal materials, decoration advertising, laser surface treatment of foreign processing services, such as all kinds of machinery processing industry etc. Today, let MORN introduce the details of fiber cutter machine for you.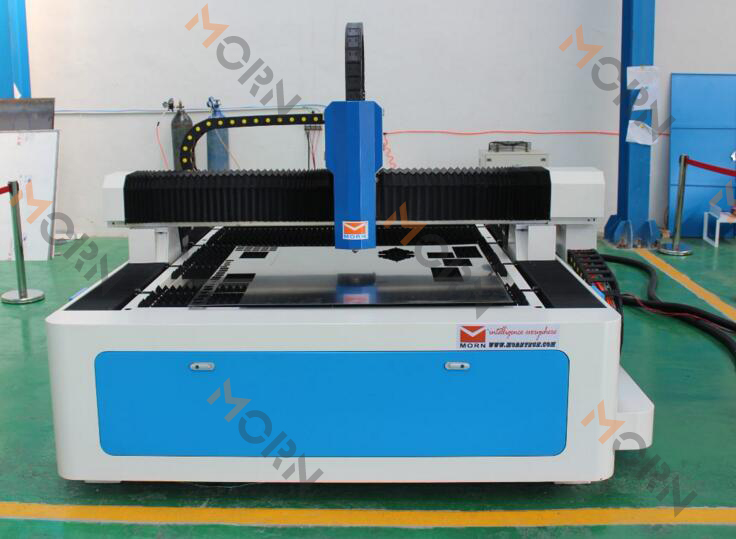 Auto focus system:
USA improved technology and adopt China patents, An automatic sensor senses the capacitance from the tip of the isolated cutting nozzle to the metal being cut. This data is then fed into the Height Follower Controller;if the metal sheet have wavy surfaces,the focus height follower can ensure constant distance between the focal lens and the plane of the metal sheets to be cut,so that consistent cutting quality can be achieved,It can avoid defects caused by wavy metal surfaces and also avoid the damage of the nozzle head. It makes the fiber cut the metal with high precision.

Yaskawa servo motors:
Imported servo system ensures the possibility of realizing extreme precise positioning with the excellent dynamic response acceleration property and closed loop control method, and that makes moving positioning mechanism operate smoothly, reliably and free of maintenance
Control System:
Industrial PC,easy operation and automatic programming. Including UPS function to protect your computer. When suddenly power off, you will have some time to save your files in the computer.

Laser power supply system:
Laser power supply adopts the latest switching power supply , it consists of main circuit, control circuits, circuit protection, pre-ignition and maintain circuit with the flow, the pressure, water flow protection device Alarm Light to warn operator and others to notice that the machine is working.
Cooling system: water cooling system, the temperature of the refrigeration unit in digital chart shows, while water temperature more than a specified temperature, it will automatically refrigeration; while water temperature below a specified temperature it will automatically stop.


Great performance, high efficiency, low consumption, maintenance-free etc. make the fiber cutter become more and more popular.
Morn has produced laser machine for many years, we have professional designer and technician in this area. Our Morn team is sunny and positive, we will try our best to offer each customer the best service. If you have any question about the CNC router or laser machine you can contract us directly. We will try our best to help you.

---