Main parts:
1. Laser Source(500W, 700W, 1000W, 1500W, 2000W, 3000W, 4000W, 6000W Optional, brand is optional)
Low Energy Consumption, save energy and protect environment. Photoelectric conversion rate is up to 25-30%. Low electric power consumption, it is only about 20%-30% of traditional CO2 machine. The fiber generator lifetime is more than 100,000 hours and almost free maintenance for life.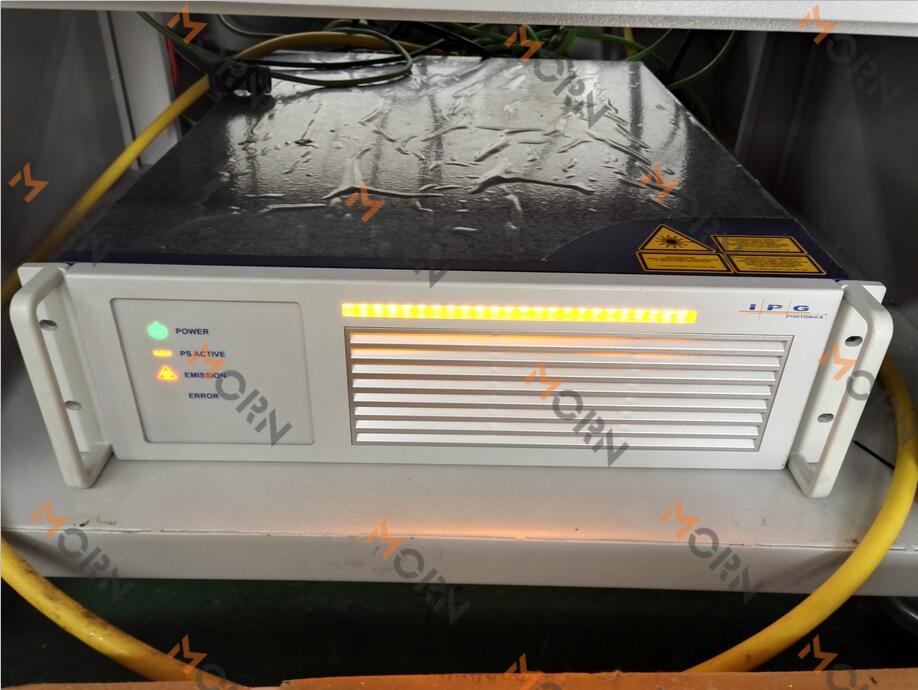 2. Laser cutting head
Machine with height follower means if the metal sheet have wavy surfaces,the focus height follower can ensure constant distance between the focal lens and plate to ensure the cutting accuracy. Auto-focusing function optional. This laser head is good sealed, high pressure resistant, auto-tracking system and anti-crash and stop system can protect good cutting quality and longer the life of lens.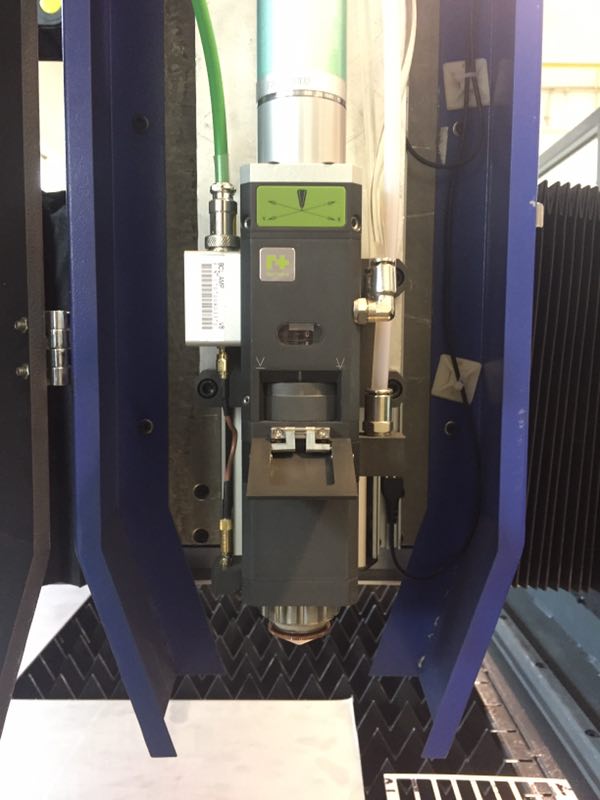 3. Control system:
Industrial computer control with offline function. Easy operation and automatic programming. Including UPS function to protect your computer. When suddenly power off, you will have some time to save your files in the computer.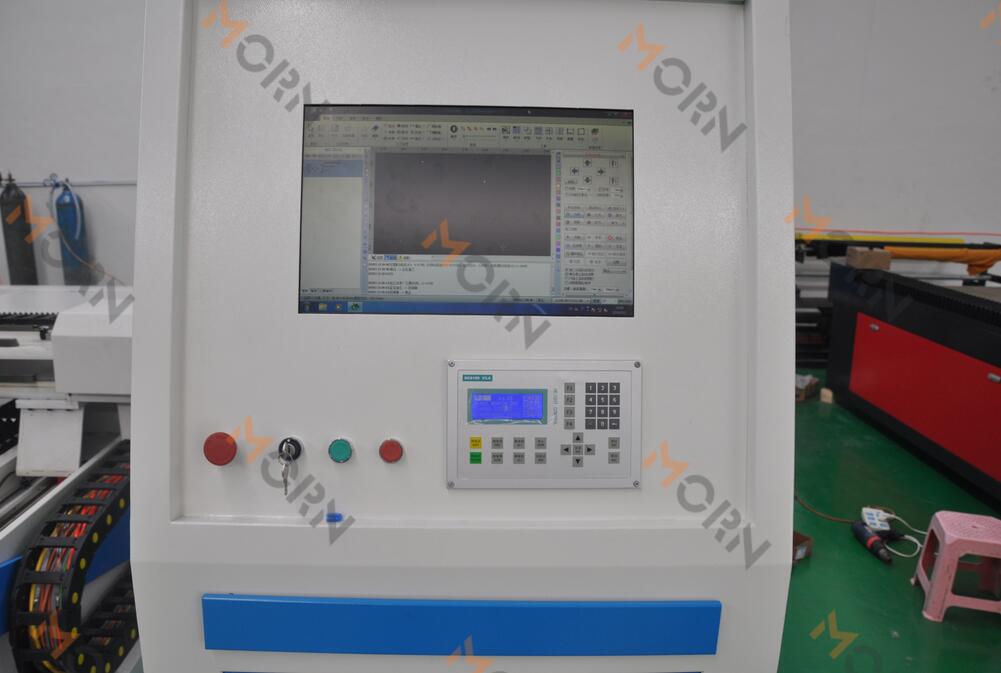 4. Japan Driver and motor system:
Adopt the Japanese servo driver and motors. Ensures the possibility of realizing extreme precise positioning with the excellent dynamic response acceleration property and closed loop control method, and that makes moving positioning mechanism operate smoothly, reliably and free of maintenance.
5. Up-down Worktable:
We equipped this machine with Up-down worktable. Which is more easier opeartion. Especially easier for put and off the thick and heavy metal sheets. It will save the engery of person. Meantime, it is protect the metal materials away from the scratch, when put the materials on the swatchtooth table.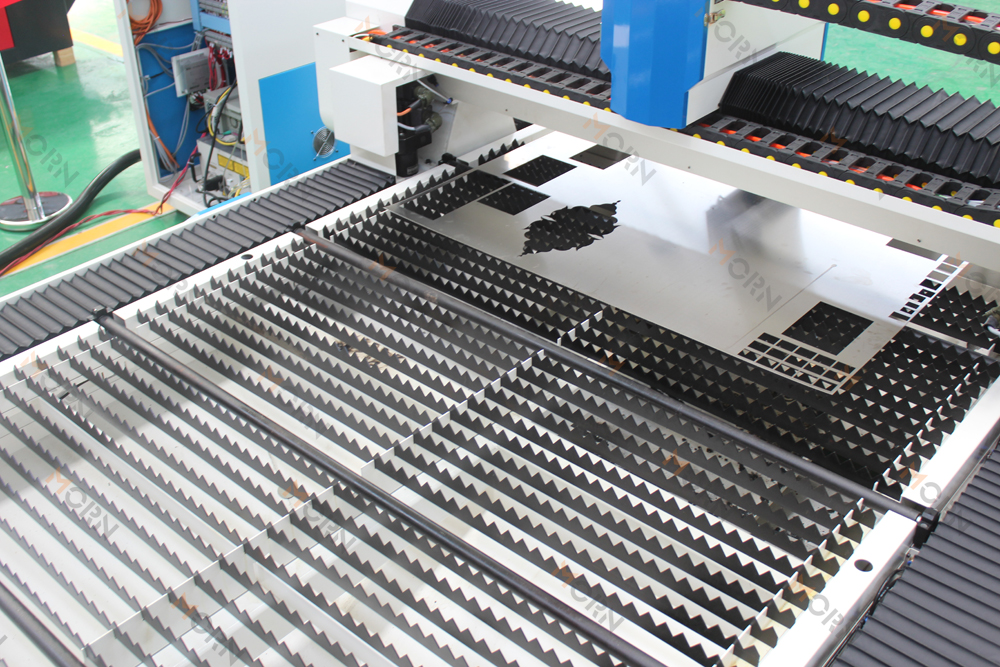 6. Constant Temperature Controller Water Chiller Cooling System :
The temperature of the refrigeration unit in digital chart shows, while water temperature more than a specified temperature, it will automatically refrigeration; while water temperature below a specified temperature it will automatically stop.
7. Automatic AC voltage regulator (Optional part):
Mainly to prevent the role of interference outside the power grid, and the power supply to adapt to emotional power, capacitive, resistive load, long-term continuous work, to withstand transient overload (rated current 2-3 times). Assist the metal cutting machine working more stability, and ensure the machine nice working performance.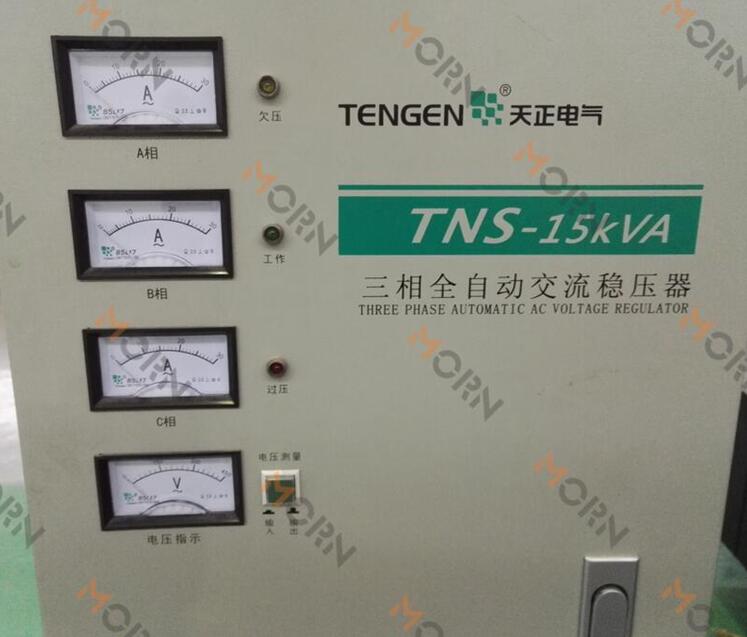 Morn fiber laser cutting machine main features:
Fiber metal laser cutting machine adopts most sophisticated fiber laser, combining self-design Gantry CNC machine and high strength heavy frame body. After high temperature annealing and precision machining by large CNC milling machine, it has good rigidity and stability with imported high precision and fast speed, linear guide drive. Aluminum beam, advanced heat treatment process, high strength, light weight, good rigidity. It is mainly for cutting sheet metal below 6mm in high speed and high precision.
Fiber laser has a series of advantages, such as high beam quality, high brightness, high conversion rates, maintenance-free, stable and reliable operation of low cost and small size, etc. Air-assisted cutting is the most advanced level of laser cutting, which is particularly suitable for stainless steel, mild steel, alloy steel, aluminum, brass, copper, titanium and other metal materials' precision cutting. It is widely used in metal products, hardware, precision machinery, auto parts, glasses, jewelry, nameplate, electronics, toys, advertising and other industries.
Advantage of Morn fiber laser cutting machine:

1. Excellent path quality: Smaller laser dot and high work efficiency, high quality.
2. High cutting speed: cutting speed is 2-3 times than same power CO2 laser cutting machine.
3. Stable running: adopt top world import fiber lasers, stable performance, key parts can reach 100,000 hours;
4. High efficiency for photoelectric conversion: Compare with CO2 laser cutting machine, fiber laser cutting machine have three times photoelectric conversion efficiency.
5. Low cost: Save energy and protect environment. Photoelectric conversion rate is up to 25-30%. Low electric power consumption, it is only about 20%-30% of traditional CO2 laser cutting machine.
6. Low maintenance: fiber line transmission no need reflect lens, save maintenance cost;
7 Easy operations: fiber line transmission, no adjustment of optical path.
Application materials:
Fiber laser cutting machine is professional used in rapid cutting on metal plates. Such as stainless steel, mild steel, carbon steel, galvanized plate, many kinds of alloy, etc.
Meantime, if you want to cut high reflection metal materials. Such as brass, copper, aluminum, silver, gold, etc. Our Morn metal cutting machine could also meet your demand, with American Nlight laser source.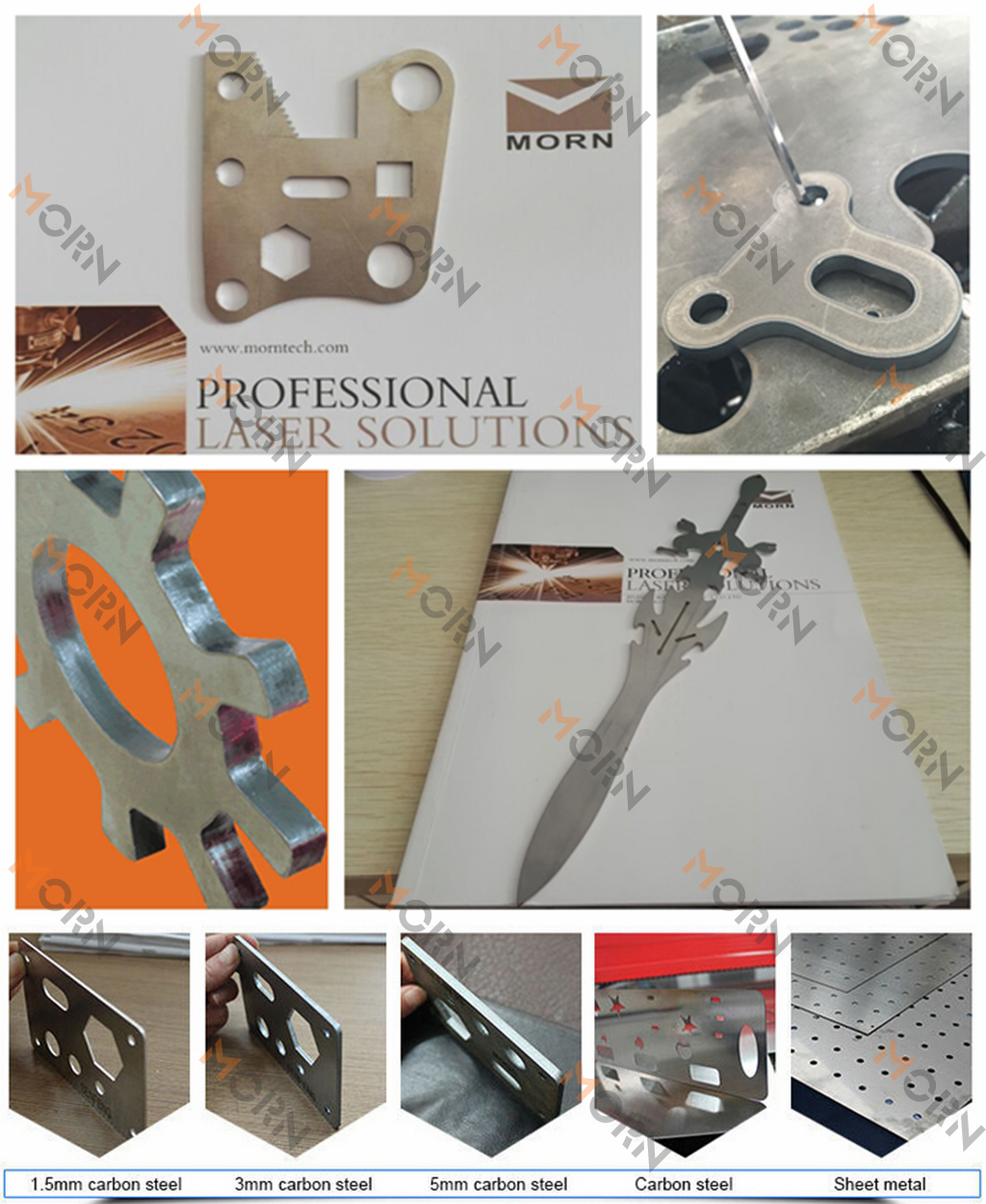 Application industries:
Morn fiber laser metal cutting machine is widely used in various industries. Such as the advertisement industry, decoration industry, kitchen and kitchen ware, engineering machinery, steel and iron, automobile, metal plate chassis, air-conditioner manufacturing, metal plate cutting, etc